Cuba has been increasing Internet access, but the current digital divide grows, too.
CASSANDRA BROOKLYN – 2/10/2021, 8:00 AM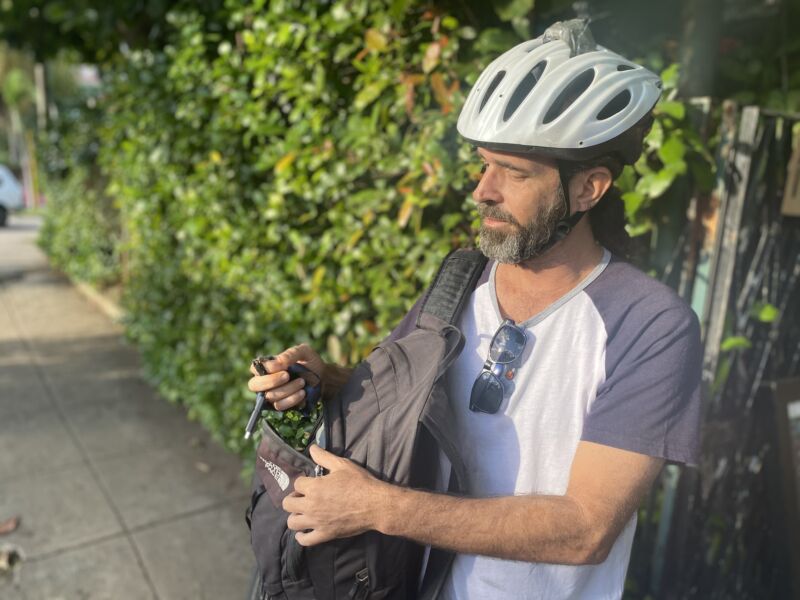 As countless Cubans have proudly told me over the years, "Cubans invent." They use creative workarounds to get by in an environment with limited access to outside resources. Glass beer bottles are sawed off to become drinking glasses; helmets transform into flowerpots; shoestrings and bottle caps are affixed to doors as makeshift locks.
And with a growing need for online access to function in the modern world, Cubans have been inventing new ways to connect to the Internet, too.
Jaime Santos-Menéndez, a Havana-based documentary filmmaker, has often lacked the money to pay for Wi-Fi cards, and so, like most Cubans, he came up with a workaround. For years, Santos-Menéndez relied on his mother, a state-employed biochemist, to receive messages for him at her office via her government email account. Friends were instructed to email his mother's work account, she downloaded the messages to a USB drive, and she gave it all to Santos-Menéndez to view on his home computer. He would then respond to messages, load his outgoing emails onto the USB drive, and rely on his mother to send them from her office the next day.
In 2018, Santos-Menéndez's mother was selected as part of a government program that provides doctors and other state employees in elevated positions with 30 hours/month of free dial-up Internet in their homes. Though Santos-Menéndez is now able to check email at home with some regularity through his mother's dial-up account, the connection is so slow that his time allotment runs out long before the end of the month. Thankfully, his mom is still willing to help with her old routine.
Let's make a movie
Santos-Menéndez's craft also brings a few more specific challenges. Filmmakers, theater directors, designers, artists, and other Cubans in creative fields have struggled to transfer files that are too large to send via email, particularly if the connection is slow (and it often is). Small files, such as event flyers, menus, and itineraries, are often sent through WhatsApp. Larger files, such as logos, films, and video performance clips, often need to be transferred directly from a memory stick.Advertisement
So, Santos-Menéndez always carries a USB drive with him that holds copies of his films. "You never know when you'll have the opportunity to share something," he says. He's sent USB drives around the world with family, friends, and newly met travelers who could help promote his documentaries or pass them along to film festival coordinators for consideration. In some cases, he's sent important digital documents along with near-strangers simply because it seemed the only way to get them into the right hands. A friend of a friend took his film to France to create French subtitles. A man he met at a film festival in Havana took a copy of his film to Puerto Rico to screen there.
In fact, I once bought a copy of Santos-Menéndez's film, Rolling in Havana: Bicycle Stories, from a stranger I met while wandering side streets in Old Havana in 2015. And after watching the film, I shared it with the founder of the Bicycle Film Festival, which puts on screenings in dozens of cities around the world. I had no relationship with the festival other than serving as a valet bike parking volunteer in 2009, but it seemed like a good fit. Rolling in Havana was added to the New York City festival the following year, marking the first US screening for Santos-Menéndez's film.
Though Santos-Menéndez has never left Cuba—and has rarely left Havana—he's proud to have had his film screened in other countries. His residence in Havana has also made it easier for him to submit to Cuban film festivals, which are typically held in the capital. Many of his friends and colleagues around the country must send their work via DVD and USB drive to Havana (often with strangers) for consideration.
No one is really traveling these days, and it wasn't easy to get in before, but welcome to Cuba… Cassandra Brooklyn
Havana has a classic aesthetic from another era. Unfortunately, having a retro connectivity infrastructure isn't as charming. Cassandra Brooklyn
You can see Cubans gathering for connectivity isn't a new phenomenon from this 2017 Getty photo: "People use her mobile phones after connecting to a hot spot outside a hotel in the old town on October 12, 2017 in Havana, Cuba." Getty Images
Welcome to the land of public Wi-Fi hotspots
No one would deny that Internet access has dramatically improved across much of Cuba in the last decade. But those like Santos-Menendez—everyday Cubans without regular access to reliable Internet—still struggle.
On my last trip to Cuba in February 2020, I found myself in Havana walking along La Rampa, a stretch of 23rd Street in the trendy neighborhood of Vedado. Early spring breezes and classic cars funneled down the wide avenue as salty waves crashed against the malecón ahead. It would be another month before the Western world realized COVID-19 was a threat, so I thoroughly enjoyed the freedom of walking without a mask, greeting strangers from less than six feet away.
And there were plenty of strangers. This two-block stretch is one of the most popular places to gather in Havana—in large part because it serves as one of the city's public Wi-Fi hotspots. Millennials gather to check social media, business owners email clients, and families video chat with loved ones living abroad.
The 1,095 public Wi-Fi hotspots across Cuba serve as a vital resource to connect the largest island in the Caribbean with the rest of the world. Of the various ways Cubans connect to the Internet, Wi-Fi hotspots continue to be the most popular method. It is worth noting, however, the number of Cubans who must rely on public Wi-Fi hotspots as their primary (or singular) option is dwindling. Beginning in December 2018, phone-based 3G data plans became available in Cuba, allowing digital connections anywhere there was a signal. Until then, connection was mostly limited to public Wi-Fi hotspots, typically a park or plaza, where users stood in the sun (or rain) and connected to the Internet using by-the-hour scratch-off Wi-Fi cards.
Low prices
Between 2015 and 2019, hourly Wi-Fi connectivity rates dropped from $4.50/hour to $1/hour. This lower price—combined with an increased number of Wi-Fi hotspots, cyber cafes, home-based Internet connections, and mobile data packages—contributed to a dramatic increase in Internet connectivity for Cubans. Ted Henken, a professor of Black and Latino Studies at Baruch College and the author of Cuba's Digital Revolution, believes that Internet access "has improved from about 5-10 percent in 2015 to 40-50 percent in 2020."
According to government data, seven million Cubans currently have some form of Internet access, but a 2020 Inclusive Internet Index reports that access only reaches 18 percent of Cuban households. Most Internet users, therefore, must still rely on the slow and unreliable connections at public Wi-Fi hotspots.
Mobile data plans
According to Freedom House, a non-profit dedicated to tracking and promoting freedom and democracy around the world, Cuba has one of the lowest connectivity rates in the Western Hemisphere—perhaps no surprise given that Cuban mobile data plans only launched in December 2018.
In Freedom House's November 2019 report and in reports by the Cuban news site 14ymedio, a total of 5.2 million Cubans had mobile phone plans (think texting and call minutes) in June 2018. (Cuba's total population was slightly above 11 million at the time.) By January 2019, only 1.8 million of those cell phone subscribers accessed the Internet from their mobile devices. More than 1.5 years later, in August 2020, the Cuban government reported reaching the milestone of 4 million people accessing the Internet via cell phone (3G) data plans. Not too shabby considering the recent starting point, but that's still not even half the overall population.
Cubans are excited to connect to the Internet without having to visit a public hotspot, but many find the monthly plans prohibitively expensive. Unlike in the United States, where many monthly data plans are unlimited, Cuban data plans function on a pay-as-you-go basis, and many users find themselves re-upping their plans several times per month. 3G plans run from 400MB for about $5 to 4GB for about $30. 4G plans start at 1GB LTE for about $4 to 14GB (of which 10GB are the faster LTE) for about $45. But given that the average monthly salary hovers around $20-30, plans remain out of reach for most Cubans.
Today, the Cubans most likely able to afford mobile data plans are those with access to tourist dollars: classic-car drivers, tour guides, employees in hotels and restaurants catering to tourists, and the owners of casas particulares, private B&B homestays that host travelers. Though these 3G packages were slow and spotty when initially launched, connection speed and reliability have improved significantly.Advertisement
Home-based Internet
According to the International Telecommunications Union, only 58 percent of Cubans had Internet access in 2018 and only 18 percent of the population had home-based Internet access. Home-based Internet has slowly expanded, however, and OnCuba reported in January 2019 that there were 70,400 home-based Internet subscribers across 115 of Cuba's 168 municipalities.
Estimating Internet access in Cuba, however, is more complicated than it would be in other countries because of how "access" is defined. Professor Henken, the Cuba expert, notes that "official Cuban government statistics may overestimate access because they include Cubans who may only have connectivity at a university or who only may have access to certain websites." At the same time, Henken notes that "official reports may underestimate Internet penetration because they're not counting people who are downloading information online and then sharing it offline." This offline sharing occurs via wireless file sharing apps and USB drives, both of which are extremely popular in Cuba.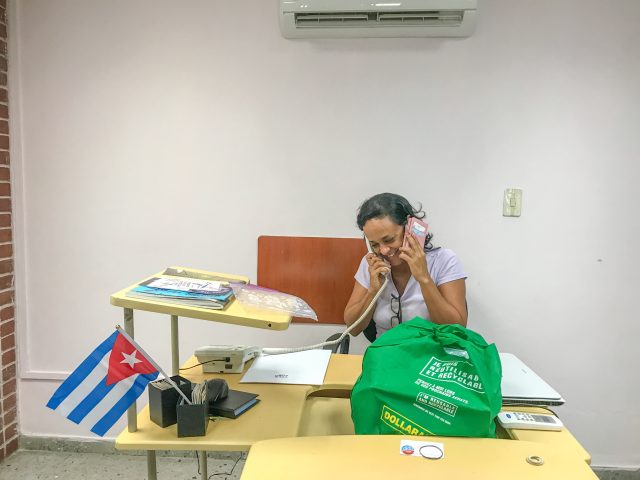 Who benefits from increased access?
In July 2019, the Cuban government expanded Internet access to include private networks in homes and businesses. These home-based Internet networks have proven particularly advantageous to the owners of casas particulares, many of whom list their casas online and can now more easily communicate with potential renters. Airbnb in Cuba faces its own set of unique challenges on the island, but the service has dramatically increased financial opportunities to a handful of Cubans who list their homes on the site. This is especially true for casa owners who can now include Wi-Fi as an additional amenity.Advertisement
CUBAN CONNECTIVITY IN A NUTSHELL
Last year, the non-profit research group Freedom House produced a series of reports, Freedom on the Net 2020, that examined what Internet access looked like across the globe country by country. The group's work on Cuba, "Cuba: Freedom on the Net 2020," provides an excellent timeline of the country's connectivity progress in the last decade:
2013: The first public-access government-run cyber cafes appear
2014: E-mail access becomes available on mobile devices
2015: 35 public Wi-Fi hotspots pop up across Cuba
2016: Public Wi-Fi hotspots grow to 237; ETECSA (state-run telecommunications monopoly) launches home-based Internet for 2,000 customers in Havana
2018: The number of government-run cyber cafes reaches 670. Internet becomes available on mobile phones beginning December 2018
2019: ETECSA reports over 1,000 public Wi-Fi hotspots
Casa owners with access to home-based dial-up Internet already had an advantage over casa owners forced to walk to a public hotspot to respond to renters. Now, casa owners and tour guides with 4G cellular data plans can respond to inquiries even faster, meaning they confirm more clients and get better online reviews than those who can only check email once or twice per day.
Response time is so important that many Cubans pay a third party to manage their Airbnb account. This third-party partner is sometimes a fellow Cuban but often a European or North American living in a country with a more reliable Internet connection. So though the home-sharing platform has offered tremendous financial opportunities to some Cubans, it has also left many homeowners behind. Casa owners who don't have regular Internet access or who lack sufficient tech proficiency to take advantage of the platform struggle to fill rooms yet are still forced to lower their prices to compete with Wi-Fi-enabled rentals that remain at full capacity.
Note that during the pandemic, tourist rentals have dwindled in Cuba and across the world, but this so-called "Airbnb effect" on pricing was true up until the shutdown in March, and there's no reason to believe it won't return once the pandemic subsides.
Small business owners across Cuba, from restaurants and bookstores to guide networks and taxi collectives, have embraced social media and increased Internet access that has allowed them to reach their clients more easily. Sending text and voice messages through WhatsApp, for example, is quicker, easier, and cheaper than using traditional text messaging.
Nayvis Diaz, who runs Velo Cuba, a Havana-based bike shop and bike-tour company, says that (prior to the pandemic) business had improved dramatically. Diaz largely attributes her company's success to increased Internet access. "Now, I'm able to respond to traveler inquiries immediately on my mobile phone instead of having to go connect at a hotspot," she says.
Osmany Chavez-Velazques runs El Caney, a small restaurant in the Sierra del Escambray mountains. His nearest Wi-Fi spot is literally a few miles away, so online promotion (and customer communications) is extremely difficult. Cassandra Brooklyn
Chavez-Velazques' country-style food—prepared over a firewood-burning stove—remains delicious enough to survive on word-of-mouth referrals and only two-to-three groups per week. Cassandra Brooklyn
Rural (missed) connections
President Miguel Díaz-Canél indicated in 2015, while still vice president, that the state was committed to make the Internet "available, accessible, and affordable for everyone." While there is room for improvement, the majority of Cubans I spoke with seem very pleased with recent Internet developments. Just a few years ago, only a handful of public Wi-Fi hotspots existed in major cities; smaller cities didn't even have a single Wi-Fi connection point.
ACCESS TO MOBILE DEVICES
Regardless of how widespread and affordable Internet connectivity becomes in Cuba, one thing will not change: people still need a Wi-Fi-capable device to connect to the Internet in the first place. Cubans without access to tourist dollars and without wealthier family members overseas continue to have difficulty affording that necessary phone.
A few years ago, I bought a smartphone for my friend Osmara, a mother of two who sells household products and trinkets in a small, home-based tienda in Central Havana. The day before I flew to Havana last February, I put a $50 credit on her account that could be used for phone calls, text, and data (several websites and phone apps allow users outside of Cuba to use a credit card to top off Cuban cell phones). The day I arrived in Havana, Osmara's phone battery exploded, rendering the credit I placed on her phone useless. Months later, she still hasn't found a new phone and is hoping I can bring her another once it's safe for me to visit Cuba.ETECSA, Cuba's telecommunications provider, now reports 1095 WiFi hotspots across the island, including in many small cities and rural areas. According to Reuters, this is up from 237 hotspots in 2016. However, not unlike in the United States and other developed countries, access is most reliable in large cities.
Struggles are more common for users in rural areas, like Osmany Chavez-Velazques. He runs El Caney, a small restaurant in the Sierra del Escambray mountains that serves country-style food prepared over a firewood-burning stove. Nestled into a national park halfway between Cienfuegos and Trinidad, cellular and Internet service are unavailable here. The home-based restaurant is steps from El Nicho waterfalls, a popular tourist attraction. But since the nearest Wi-Fi hotspot is three miles away, online promotion is a challenge. Chavez-Velazques and his family rely largely on word-of-mouth referrals and receive only two or three groups per week.
Chavez-Velazques asked me to promote his restaurant online (does this count?) and urged me to bring more tour groups to his restaurant. When we first met in 2019, he made sure I had his cell phone number (even though the device doesn't work in his home), and he had me record his teenage daughter's information. A state-run bus transports children from this community of 300 to school each day, where they're able to connect to Wi-Fi. Since we first met, Chavez-Velazques has told me contacting his daughter through WhatsApp would be the best way to make a reservation and ensure he has enough food for my groups. In some cases, I'm able to reach his daughter quickly. In other cases, I find she hasn't logged on for several weeks.Advertisement
Changing how Cuba communicates
When I began leading group tours to Cuba in 2015, lags in communication like this were the norm. I left messages for my guides and drivers with whoever was at home, hoping they recorded the information accurately. Voicemail wasn't—and still isn't—a thing in Cuba, so if nobody was home, I just had to call later or try my luck with email. I usually received a response within a day or two, but sometimes, email responses trickled in weeks later.
But these days, most of my contacts and colleagues now have mobile data plans. They respond within a couple of hours—or minutes! Voice-recorded messages, often sent via WhatsApp, serve as a substitute for traditional voicemail, making communication clear, quick, and easy.
While researching the guidebook Cuba by Bike in 2018, I was shocked—and very grateful—to find Internet hotspots in tiny towns from Pinar del Rio in the west to Guantanamo (the province, not the military base) in the east. It seemed as though everyone was connected, and that connection has since grown exponentially.
Just a few years ago, mobile phone communication was so expensive that virtually nobody had conversations over mobile phones unless it was urgent. A common way to reach friends was to call their mobile phone from a landline and hang up before they answered. This allowed the receiver to see who was calling, then find a landline to return the call, allowing both parties to avoid mobile phone fees. With expanded, relatively affordable phone plans, calls are now typically answered immediately.
Weak bandwidth could barely support video calls two years ago, but now, many of the Cubans (and tourists!) logging on at public Wi-Fi hotspots are doing so precisely to have a video chat. Video streaming has expanded so dramatically that a dissident recently filmed and livestreamed his arrest on Facebook. In response to the arrest, hundreds of Cubans convened on protests, and sit-ins that were largely organized through mobile apps. Just a few years ago, none of this could have been possible and likely wouldn't have even been imagined.
Increasing Internet access isn't all gravy
Lori Whatley, a clinical psychologist and the author of the book Connected and Engaged, told Ars that her clients around the world are universally voicing that they are tired from overuse of the Internet and overexposure to screens. "Research supports that countries and communities around the world have experienced increased anxiety and stress when Internet usage has increased."Advertisement
As widespread Internet access is new in Cuba (or not yet existent, depending upon whom you ask), concern about the dangers of too much screen time isn't yet commonplace. Most Cubans continue to simply struggle to access the Internet regularly.
That said, pockets of concern and resistance about becoming overly connected do already exist. Luis León, a journalist in Trinidad, Cuba, has noticed how much more time his friends and colleagues have spent online since 3G plans launched two years ago. He has also noticed many of them intentionally disconnecting from their devices recently because "spending so much time online can promote anxiety and can separate you from real life." Internet use may be on the rise on the island, but León ultimately believes "the prohibitively high cost of Internet access will prevent Cubans from becoming online addicts like in the United States any time soon."
Beyond individuals, many Cuban businesses continue to clamor for an Internet connection in order to offer it to their customers (both local and foreign). But a few are also resisting widespread Internet access that might make Cuba "like the United States." Nelson Rodriguez, the owner of the popular El Café in Old Havana, says that he has passed on installing a private Internet connection despite the opportunity to do so. "We don't want people to come here just to sit on their laptop all day," he says. "We specialize in good breakfasts and we want people to come here to enjoy brunch or a good coffee and to converse."
In Cienfuegos, Cuba, Rene RodrÍguez is forgoing the trend of advertising photography services on Instagram, Facebook, and WhatsApp. Instead, he relies on his reputation and old-fashioned word of mouth referrals to find new business. Most of his customers are Cubans, who hire him for weddings, birthdays, and quinceñeras. Though he knows an online presence would likely help him reach wealthier tourists, he's happy with his current business structure since it doesn't force him to be glued to digital screens all day.
It's still unclear if Cuba's Internet efforts can continue to shrink the country's digital divide, how quickly it will reach the outskirts of the country, and what impact increasing Internet access will have on its population long-term. For now, only one thing is certain: things are changing when it comes to Internet access in Cuba. And most residents are thrilled with progress thus far and eagerly anticipating even more connectivity.
Cassandra Brooklyn is a freelance writer, travel expert, and group tour leader. She runs EscapingNY (an off-the-beaten-path travel company) and is the author of the guidebook Cuba by Bike. She has previously written for Ars about Internet access coming to a remote Canadian town